The road to Wrestlemania 33 starts at the Royal Rumble, which will take place in a couple of weeks. This years rumble is actually exciting, because there are so many possibilities on who could actually win. Unlike the last few years, which ended in boos when Bautista, Roman Reigns, and Triple H predictably won the rumble. This years match has names like Goldberg, Brock Lesnar, The Undertaker, and Seth Rollins. Although we know HHH is going to come out and ruin Seth's chances at winning, setting up what should be an awesome Wrestlemania match between the two. But people are salivating over the possibility of John Cena vs The Undertaker at WM 33. I'm not going to lie, I would love to see it to, because this might be Taker's last WM. But how could they set it up. Would Cena have to beat Styles and win the WWE Championship at the Rumble, and have Taker win the Royal Rumble match, setting up a Cena Taker main event at Wrestlemania? But would Taker have to beat Cena and go on another championship run? I mean, I would personally like to see an underdog win the Royal Rumble, say a Chris Jericho, and set up the first ever best friend vs best friend match at Wrestlemania. That would put asses in the seats.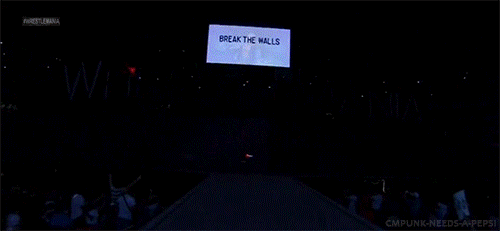 The next couple of months could be huge for Jericho. He needs to get it started by shocking the world and winning the rumble. But also, say if Goldberg doesn't win, what direction are they going to go with him? And also Lesnar. Because personally, I don't want to see either of them win the Rumble, and I also don't want to see them wrestle again at WM 33. Honestly pretty excited for the next couple of months leading up to Wrestlemania. So many questions still to be answered. Wrestlemania leaves fans with unforgettable moments. Hopefully this years doesn't disappoint. I will never forget where I was when I witnessed the greatest upset in the history of sports, Brock Lesnar defeating The Undertakers 21-0 WM streak. This gif describes my reaction perfectly. I honestly almost had a heart attack and a mental break down at the same time. Probably the closest I've ever been to dieng to be honest.
But if there is one thing I have learned from my many years of watching WWE, "You can't kill whats already dead."- The Undertaker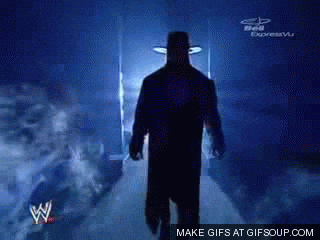 PS: If this man shows up, we are all fucked.