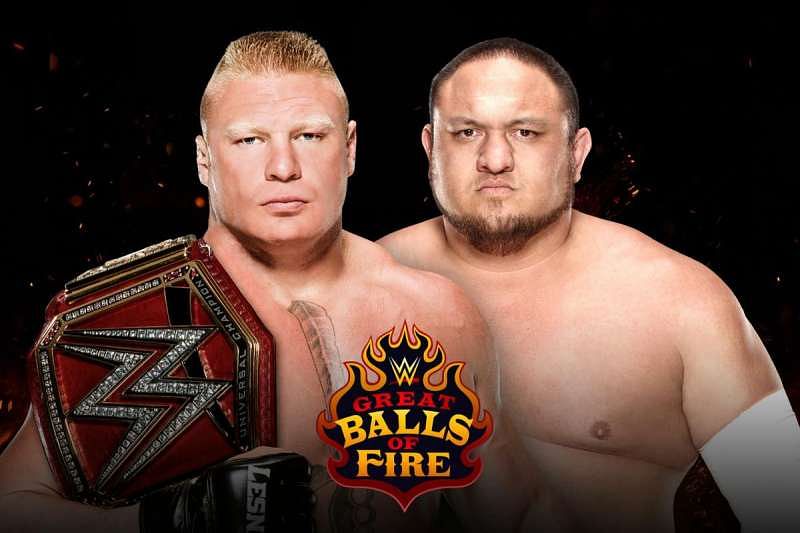 So Samoa Joe won the Fatal Five Way two weeks ago at Extreme Rules. It was a really solid match, and I think Joe winning took a lot of people by surprise. From what I heard, Finn Balor was the heavy favorite, but to see Joe win was pretty awesome. I always love when I accidentally hear a rumor, and it ends up being wrong, even if I don't like the outcome. For example, many people didn't like Randy Orton winning this year's Royal Rumble, but I personally thought it was cool and different. Recently, on Smackdown, Jinder Mahal defeated Orton to win the WWE Championship, which I personally don't mind. I like seeing unexpected things to happen in wrestling. At first I didn't think Joe vs Lesnar would be entertaining, then the next night on Raw, I changed my mind.
Seeing Joe make Paul Heyman fall asleep was amazing. It is one of those moments as a wrestling fan you will never forget. Heyman has always been a troll, but no one puts their hands on him because of the repercussions that would follow at the hands of Brock Lesnar. But Samoa Joe doesn't give a fuck about Lesnar. That is what is making this rivalry awesome. It will be a straight up brawl at GBOF. I won't even call it a wrestling match, it will be a fight. I always love it when the whole roster has to come out to get in the middle of two people, like what happened on Raw last night. Although I don't think Joe will win, mainly because Lesnar probably demands he has the belt and main events Summerslam, I expect an awesome match.
Lastly, come on WWE, what is with the title of the pay-per-view? Great Balls of Fire? When I heard that, I thought it was a joke. I wish they went back to The Great American Bash. I always liked that ppv name. Nothing worse than the generic ppv titles like "Money in the Bank" "Extreme Rules" "Tables Ladders and Chairs" or even "Hell in a Cell". I really wish they got rid of those and gave each ppv a real name.